Lake Koman was artificially built by the communist regime to obtain electricity through the use of hydropower plants. The lake formed by the construction of dams on the Drin River, not only supplies the country with electricity, but has become one of the best tourist attraction that Northern Albania can offer. The mountains on both sides of the road are from 1,000 to 1,500 feet high, the scenery is magnificent, the terrain untouched for centuries.
In fact, it looks much more natural than most such lakes. It is so calm and you can experience this feeling on your trip. If you choose to travel by boat you have the opportunity to extend your hand in the water and experience for yourself this feeling of calm that the lake offer. Thats a miracle.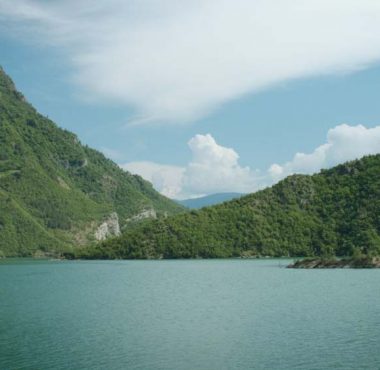 My name is Eduard Kola, I'm from Berisha, a small village in the middle of the lake. In this region the way of life is still very traditional, like our ancestors, we live from agriculture and animal husbandry. The isolation of the place makes the territory unique, with a balanced cohabitation between the man and the nature.
The recent arrival of tourism has allowed us to generate a basic economy that enable us to continue living in the territory, and stop the exodus to the metropolis.
For several years we have made available to tourists our 3 tourist boats. Each boat can carry groups of tourists up to 30 people. Over 4 people will take care of you, so that everything goes properly and you enjoy the beauties of nature in Lake Koman and the Shala River.
We have a deep respect for people who is interested in knowing the beauty, the nature and our way of life. People who want to discover the authenticity of this place. I would like to create a balanced, respectful and sustainable tourism; to be able to make accessible to those who come from outside a unique experience, and a close encounter with its inhabitants.